Outlook bugs and issues¶
Attachment size¶
Situation: When looking a mail that has attachments, the size reported next to the icon+filename appears inflated over the actual file size that will be saved to disk.
Cause: Outlook displays the value of the PR_ATTACH_SIZE MAPI property. This property is specified to not only include the file size, but also the metadata for the attachment.
Restoring softdeleted public folders¶
When a softdeleted public (sub-)folder is restored, the name is truncated to one character, even with EXC2019 server.
Passwords with umlauts¶
Gromox conveys the available authentication mechanisms to clients via the WWW-Authentication header in HTTP responses. As of Gromox 2.17, "Basic" and "Negotiate" are supported. "Basic" is augmented by a charset parameter (RFC 7617 §2.1).
However, the Windows RPC and HTTP libraries ignore this parameter, and they also ignore the few UTF-8 options from the Control Panel's Internet Options dialog.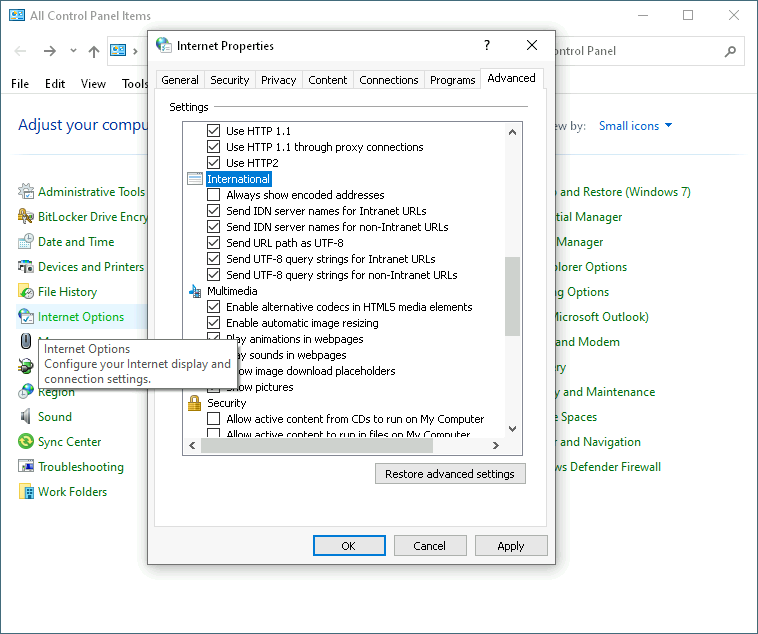 The RPC/HTTP libraries always transmit Basic authorization using the system default locale's codepage. In fact, if the password entered into the authorization dialog cannot be represented in that encoding, no Authorization header will be sent at all in the HTTP request.
Exchange Server interprets passwords received via the Basic authorization header as UTF-8 at first and, should the password validation fail, it will retry using the codepage of the default locale of the server system. This means that a client with Japanese locale (with cp932) will never be able to connect to an Exchange Server running with English locale (with cp1252) with Basic-type authentication.
Unlike Windows, installations of contemporary Linux systems exclusively use UTF-8. As such, there is no second charset that would make sense for a server process to try.
In Windows 10 and later, the Region settings in the (classic) Control Panel has a checkbox to switch the Narrow Encoding System APIs to interpret and emit strings and some other data as UTF-8, much like what Linux systems do. Be aware that changing the region has consequences for all unannotated data. For example, it influences how text editors will make guesses about the encoding of plain-text files.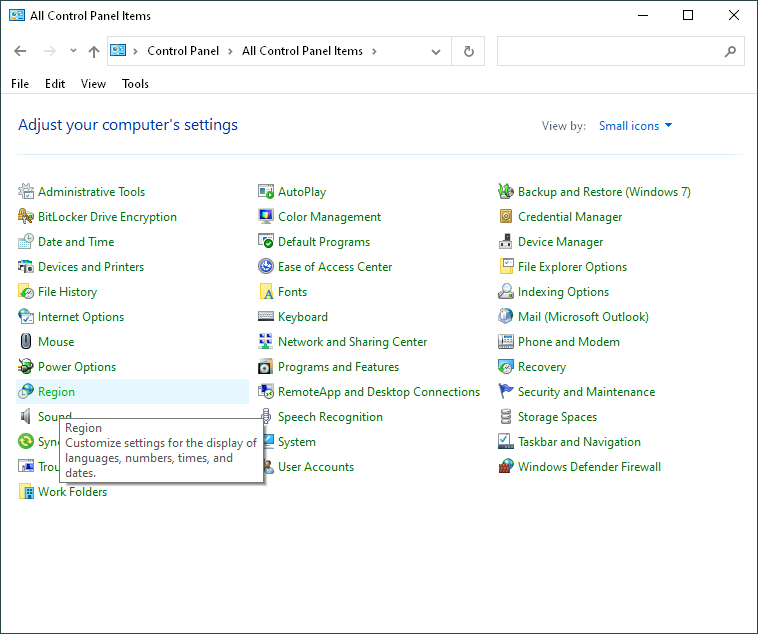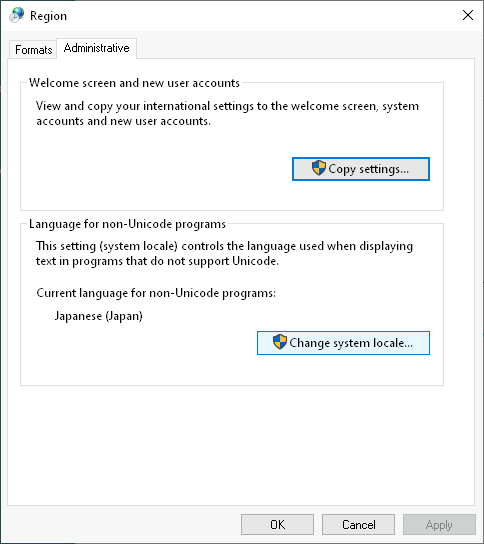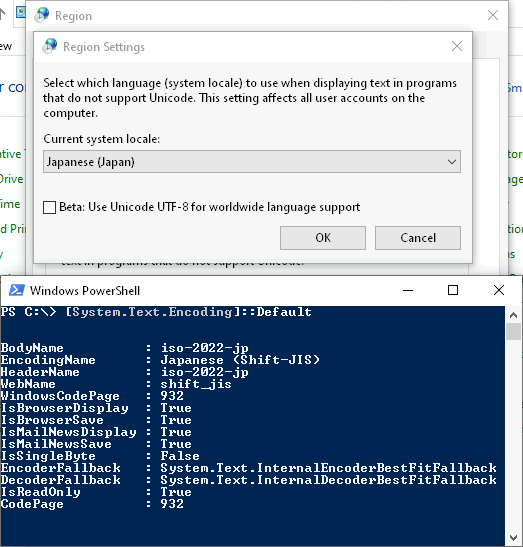 Authentication via the Negotiate mechanism is believed to be mostly free from character set problems. Negotiate can contain GSS/SSO/NTLM tokens, and NTLM in particular is specified to use UCS-2LE/UTF-16LE for its challenge–response authentication, which gives non-ASCII characters an angle to survive.
Rules dialog not openable¶
RuleOrganizer is a FAI message in Inbox with PR_MESSAGE_CLASS="IPM.RuleOrganizer". If this message has no PR_RW_RULES_STREAM property, Outlook refuses to open the rules dialog. It issues a ropOpenStream call without MAPI_CREATE, which means it did not pass MAPI_CREATE to the IMessage::OpenProperty COM API either. Therefore, if the property is missing, OL will will not re-create it (which is stupid, because when the message is absent, it will re-create that).
Moreover, when the PR_RW_RULES_STREAM property exists but has size 0, the rules dialog immediately closes again, another bug.
Offending mailboxes can be repaired with the gromox-mbop -u abc@example.com clear-rwz command.
MFCMAPI table sort quirk¶
Sorting a table by clicking on a column header will make MFCMAPI use its own sorting rather than ropSortTable. Only the portion of rows that has already been loaded (ropQueryRows) will be sorted.
Outlook 2010/2013 specialties¶
Technicalities with hanging connections¶
Outlook and tools like MFCMAPI usually invoke mapi32.dll functions from the same thread that also runs the user interface. The UI is blocked while MAPI functions execute. If the UI does not respond for a while, the desktop shell marks the window as unresponsive.
Modern connections to Exchange-style servers use HTTP (TCP), but even with a server sending TCP RST/FIN, the MSRPC libraries seem to take a while to notice. We surmise this is a side-effect of the historic design of DCERPC/MSRPC which allows for datagram transports — and where connection-oriented transports are an afterthought.
In Cached Mode, MAPI calls from application terminate at the OST file. The OST<->server synchronization runs in a separate thread. Therefore, connectivity interruptions do not normally affect the UI, though complex queries involving the OST contents (opening a folder with 50000 mails) may still.
In MFCMAPI with an online-mode MAPI profile, on connectivity interruption it can be observed that the store handle "shuts down" and a number of subsequent MAPI calls return a network error, until such a time that mapi.dll or the program decides to effectively re-login and obtain a new, valid store handle. (In doing so, MFCMAPI crashes sometimes. Outlook seems to handle this better and live on.)